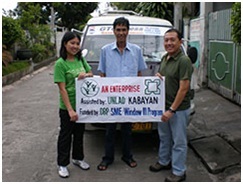 We help develop micro, small and medium enterprises (MSMEs) in communities, to help the local population. They range from small sari-sari stores (corner stores) to large scale agricultural operations. We use twin strategies to achieve these goals.
Business Incubation (BI) is a strategy where we provide technology, mobilize investments, and supply additional capital for businesses. In some cases an UnladKabayan staff member will manage the business, placing it under ?incubation?. Our role is to develop the architecture of the enterprise. Using our experience, specialist skills and resources we are able to help enterprises and businesses develop.
Our other strategy is to use our Social Entrepreneurship and Enterprise Development Services (SEEDS) centers. They are community-based training and resource centers to promote entrepreneurship in the community, and double as our regional offices. Residents can observe activities and operations they can replicate in their communities, receive hands-on training, and access technology.
Helping OFWs to start a business is not one of our goals. Instead, we aim to build sustainable communities, economies, jobs, livelihoods, and enterprises for migrants to invest their money in. We want to build income-generating projects that benefit the entire community, not just individuals.