Thursday, 24 June, 2010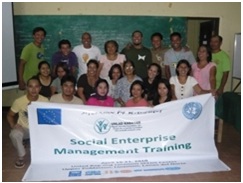 At least 30 migrant and community entrepreneurs attended the Social Enterprise Management Training conducted by Unlad Kabayan on April 19 to 21, 2010 in Unlad Bag-ong Linamon SEEDS Center, Upper Poblacion, Linamon, Lanao del Norte.
The three-day training equipped the participants with new and innovative principles, processes and tools in managing social enterprises. Topics discussed in the training were: Understanding Social Entrepreneurship; Marketing; Technical Production & Operation and Human Resources Management. Workshops followed after lectures where the participants were tasked to create their own marketing plans and business plans.
The participants also learned from each other's experiences in managing social enterprises, including the challenges they encountered and solutions/actions they took. Among the participants were Elsa Belarmino, a migrant returnee who is now managing a rice center in Surigao del Norte, and Marcelo Cabante of the Lanao Seaweed Growers Multi-Purpose Cooperative.
This activity was funded by the European Union through the EC-UN Joint Migration and Development Initiative.