Wednesday, 06 January 2010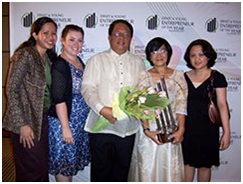 On 15 October 2009, Unlad Kabayan's Executive Director Maria Angela Villalba, Development Communications Officer Frozti Ann Agrasada, and Australian volunteer Tim O'Mahony attended the Ernst and Young Entrepreneur of the Year Philippines ceremony, held at the Makati Shangri-La Hotel. Ms. Villalba won the "Social Entrepreneur of the Year" award in 2007 for her work with Unlad Kabayan. Ms. Villalba presented this year's Social Entrepreneur of the Year award to Gemma N. Bulos, Founding Director of A Single Drop for Safe Water (ASDSW).
As the Ernst and Young website states - Social entrepreneurship is about applying practical, innovative and market-oriented approaches to benefit the marginalized and the poor. A social entrepreneur is one who has created and leads an organization, whether for-profit or not, that is aimed at catalyzing large scale and systemic social change through the introduction of new ideas, methodologies and changes in attitude.
Unlad Kabayan promotes social entrepreneurship through all its programs, and believes that all members of the community can utilize entrepreneurial practices for the good of their community. The Entrepreneur of the Year Philippines was established in 2003. To find out more about the awards visit www.eoyphils.com.