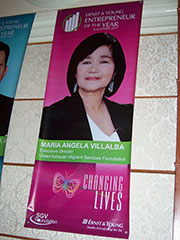 Maria Angela Villalba, UnladKabayan's founder and executive director, graduated from the University of the Philippines in 1967 with a Bachelor of Science in Social Work.
She was exposed to the plight of OFWs when she worked in Hong Kong as a training and organizing consultant. Her involvement with migrant issues led her to create the Asian Migrant Centre in 1989.
Ms.Villalba has taken her cause to the United Nations where she helped draw better policies for migrants around the world.
At present, she is a board member of the Global Fund for Women, a founder of Migrant Forum in Asia, and a founding executive council member of Migrants Rights International.
In 2007, she received the Social Entrepreneur award in the Philippines from Ernst and Young. She recently attended the World Economic Forum 2008 in Davos, Switzerland.