Friday, 15 January 2010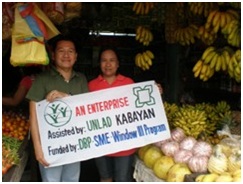 Micro and migrant-owned enterprises improved and expanded their operations through loans from Unlad Kabayan. Around 400 jobs were created in 2008, posting a 28%-increase from the previous year.
With a credit line from the Development Bank of the Philippines, the Credit Assistance Program of Unlad Kabayan increased its loan releases to PhP8M in 2008, from PhP 3.6M in 2007, or by 126%. Gross income grew by 31%.
On the photo is Merlita Mendoza, migrant returnee who started this fruit and vegetable stall in 2002 in Bacoor, Cavite. The enterprise currently employs four full-time workers and generates an average daily sales of PhP15,000