Thousands of Families Affected When Tropical Storm Washi (Sendong) Hit Philippines Days before the Christmas


Last December 16, 2011 at around 12 in the midnight, Tropical Storm Washi (with the local code name Sendong) hit Southern Philippines (Mindanao) and the Western and Central Visayas. The disaster has caused flash floods and landslides and affected 7 regions, 12 provinces, 8 cities, 18 municipalities and 140 barangays. Sendong has left huge devastation displacing 19,759 families or 108,130 persons, damaged houses, assets and livelihoods. Casualties have reached more than 1,000 people both dead and still missing. (NDRRMC Report of December 18, 2011).
Unlad Kabayan has conducted rapid needs assessment in the worst hit cities of Iligan and Cagayan de Oro in Northern Mindanao. The disaster has left the affected areas totally wrecked. Basic needs such as food, medicines, clothing and shelters have become in great demand and in immediate need. To help those affected families and individuals, let us share whatever we want to give them to respond to their needs and contribute towards the immediate recovery and rebuilding of their lives.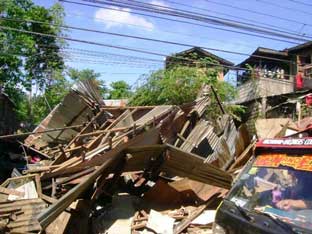 We at Unlad Kabayan welcome all your donations in any kind. You may send your donations through our offices.
Unlad Kabayan Migrant Services Foundation, Inc. (National Office)
39A Maningning St., Teachers Village West, Quezon City 1101
Philippines
And
Unlad Kabayan Migrant Services Foundation, Inc, (Lanao Office)
SEEDS Center, Upper Poblacion, Linamon
Lanao del Norte 9202, Philippines
For cash donations, you may deposit or use bank transfer to the following accounts:
Peso-Checking Account
Bank: Bank of the Philippine Islands (BPI)
Acct Name: Unlad Kabayan Migrant Services Foundation, Inc.
Account #: 9351-0044-68
Swift code: BOPIPHMM
Branch code: 935
Address: Quezon Avenue corner S.T. Lluch St., Brgy Poblacion, Iligan City 9200, Philippines
Peso Checking Account
Bank: DBP (Development Bank of the Philippines)
Acct. Name: Unlad Kabayan Migrant Services Foundation, Inc.
Acct #: 000-05709-820-2
Swift code: DBPHPMMXXX
Branch code: 180590016
Address: Picardal Road, Brgy. Mahayahay, Iligan City 9200, Philippines
US Dollar Savings Account
Bank: BPI (Bank of the Philippine Islands) Bank
Account name: Unlad Kabayan Migrant Services Foundation, Inc.
Acct #: 3324-0131-39
Swift Code: BOPIPHMM
Branch code: 332
Bank address: 137 Kamias Road, Quirino St., Quezon City, Philippines
You may also contact us thru telephone lines or email:
Telephone: +63 2 794 1379
Telefax: +63 2 433 1292
Email:
info@unladkabayan.org
,
sam.sambitory@unladkabayan.org