Incident Report - Davao Oriental
View Updated images of Typhoon Pablo affected areas here.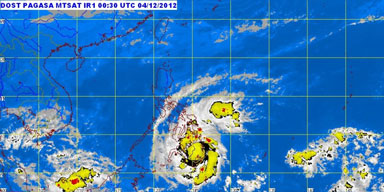 Pablo made landfall in BAGANGA, DAVAO ORIENTAL before 5 a.m. Tuesday packed with maximum sustained winds of 175 kph near the center and gustiness of up to 210 kph.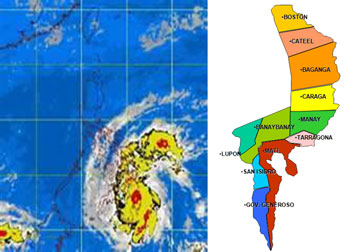 MOST AFFECTED TOWNS:

Characteristics of Super Typhoon Pablo
Maximum sustained winds that reached 185 kph
Rainfall of 15 to 30 mm per hour (heavy to intense) within its 600-km diameter.
Could uproot trees and destroy houses made of light materials.
Typhoon Pablo (Bopha) is the strongest storm to hit Mindanao in two decades, PAGASA said Tuesday
Situation in the area
The Manurigao Bridge in Caraga which connects the three towns of Baganga, Cateel and Boston to Caraga road leading to Mati and Davao City collapsed at 7:45am, December 4, 2012.
Taytayan bridge in Cateel connecting poblacion of Cateel to other barangays of the same town and Baganga also collapsed.
95% of the houses in the poblacion of Boston, Cateel and Baganga, are totally wrecked. It includes the hospital in Cateel, evacuation centers, school buildings and churches and even the 67th IB Headquarters (Alpha Coy) in Baganga.
Communication towers of Globe, Smart and other networks are down.
Power black-out in the entire province since Tuesday, December 3, 3:00am.
No water supply in the isolated towns since Tuesday, December 3,3:00am.
Extreme damages in agriculture: crops, coconut trees, livestocks,etc..
Debris of trees, electric posts, make some roads unpassable.
The collapse of bridges and the damage on the roads make relief services very difficult.
Erratic weather behavior in the three isolated towns affects our precision of action response.
IMMEDIATELY NEEDED
FOOD
CLOTHING
WATER
MEDICINES
CLEARING OF ROADS
LIFE BOATS/VESSELS TO CROSS THE RIVERS IN MANURIGAO AND TAYTAYAN
RESTORATION OF COMMUNICATION NETWORKS
CONSTRUCTION OF TWO BRIDGES
SHELTER
View Updated images of Typhoon Pablo affected areas here.
We at Unlad Kabayan welcome all your donations in any kind. You may send your donations through our offices.
Unlad Kabayan Migrant Services Foundation, Inc. (National Office)
39A Maningning St., Teachers Village West, Quezon City 1101
Philippines
And
Unlad Kabayan Migrant Services Foundation, Inc, (Lanao Office)
SEEDS Center, Upper Poblacion, Linamon
Lanao del Norte 9202, Philippines
For cash donations, you may deposit or use bank transfer to the following accounts:
Peso-Checking Account
Bank: Bank of the Philippine Islands (BPI)
Acct Name: Unlad Kabayan Migrant Services Foundation, Inc.
Account #: 9351-0044-68
Swift code: BOPIPHMM
Branch code: 935
Address: Quezon Avenue corner S.T. Lluch St., Brgy Poblacion, Iligan City 9200, Philippines
Peso Checking Account
Bank: DBP (Development Bank of the Philippines)
Acct. Name: Unlad Kabayan Migrant Services Foundation, Inc.
Acct #: 000-05709-820-2
Swift code: DBPHPMMXXX
Branch code: 180590016
Address: Picardal Road, Brgy. Mahayahay, Iligan City 9200, Philippines
US Dollar Savings Account
Bank: BPI (Bank of the Philippine Islands) Bank
Account name: Unlad Kabayan Migrant Services Foundation, Inc.
Acct #: 3324-0131-39
Swift Code: BOPIPHMM
Branch code: 332
Bank address: 137 Kamias Road, Quirino St., Quezon City, Philippines
You may also contact us thru telephone lines or email:
Telephone: +63 2 794 1379
Telefax: +63 2 433 1292
Email:
info@unladkabayan.org
,
sam.sambitory@unladkabayan.org