Update Report - as of January 14, 2013
View Initial Incident Report for Typhoon Pablo.
View Updated images of Typhoon Pablo affected areas here.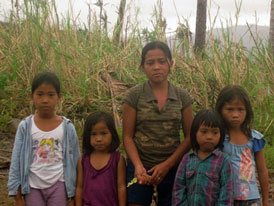 On December 20-21 and 26, 2012, one thousand (1,072) households in four (4) barangays in Cateel, Davao Oriental received relief packs. These are far-flung barangays that Unlad Kabayan identified as underserved that can be reached only by single motor (habal-habal), and/or walking for 7-9 hours, or reachable by banca (small dug-out boats). Some sitios are nestled in deep valleys and along upstream Cateel River on the border of Compostela Valley.
Maglahus: 8 sitios – 356 households
Aliwagwag: 7 sitios – 255
Malibago: 8 sitios – 384
Taytayan: 3 sitios - 77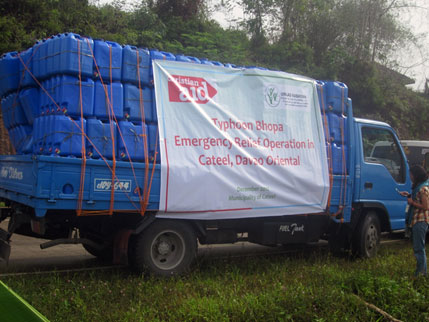 The households and local governments of the province of Davao Oriental are grateful to the people of the United Kingdom who expressed sympathy and support through Christian Aid, to the Women's Legal Bureau and friends of Unlad Kabayan who contributed towards easing the hunger, distress of affected households. The relief packs included: ten kilos of rice, canned goods, water containers, flashlights, sanitary napkins and small food packs and goodies for the children.
Many households who came down to distribution centers to receive relief included pregnant and lactating women w ith infants and young children.
Typhoon Pablo (Bopha) was described as the "most devastating catastrophe in 2012" in the world by the "US Impact Forecasting" with 1,901 deaths, more than 300,000 homeless and US$1 Billion in damages.
View Updated images of Typhoon Pablo affected areas here.
We at Unlad Kabayan welcome all your donations in any kind. You may send your donations through our offices.
Unlad Kabayan Migrant Services Foundation, Inc. (National Office)
39A Maningning St., Teachers Village West, Quezon City 1101
Philippines
And
Unlad Kabayan Migrant Services Foundation, Inc, (Lanao Office)
SEEDS Center, Upper Poblacion, Linamon
Lanao del Norte 9202, Philippines
For cash donations, you may deposit or use bank transfer to the following accounts:
Peso-Checking Account
Bank: Bank of the Philippine Islands (BPI)
Acct Name: Unlad Kabayan Migrant Services Foundation, Inc.
Account #: 9351-0044-68
Swift code: BOPIPHMM
Branch code: 935
Address: Quezon Avenue corner S.T. Lluch St., Brgy Poblacion, Iligan City 9200, Philippines
Peso Checking Account
Bank: DBP (Development Bank of the Philippines)
Acct. Name: Unlad Kabayan Migrant Services Foundation, Inc.
Acct #: 000-05709-820-2
Swift code: DBPHPMMXXX
Branch code: 180590016
Address: Picardal Road, Brgy. Mahayahay, Iligan City 9200, Philippines
US Dollar Savings Account
Bank: BPI (Bank of the Philippine Islands) Bank
Account name: Unlad Kabayan Migrant Services Foundation, Inc.
Acct #: 3324-0131-39
Swift Code: BOPIPHMM
Branch code: 332
Bank address: 137 Kamias Road, Quirino St., Quezon City, Philippines
You may also contact us thru telephone lines or email:
Telephone: +63 2 794 1379
Telefax: +63 2 433 1292
Email:
info@unladkabayan.org
,
sam.sambitory@unladkabayan.org