Women in Haiyan-affected Communities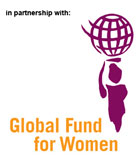 Early Recovery & Rehabilitation Project
Isabel, Albuera & Palompon, Leyte
January - June 2014

Immediately following Typhoon Haiyan (Yolanda), Unlad Kabayan immediately mobilized with their international partners in bringing Early Recovery and Rehabilitation to heavily-affected areas in Leyte. With the drive to Respond to Women's Needs in Haiyan-affected communities, Unlad Kabayan conducted immediate rapid scan and assesments on the ground. Proceeding to identifying benificaries, we conducted surveys while closely coordinating with the local goverment. By January of 2014, we started our rehabilitation efforts on the personal level.
Psycho-social & Stress de-briefing
During our sessions with women in the affected areas, we covered important issues towards enhanced awareness.

Why are we vulnerable?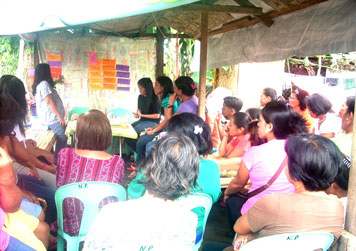 Climate changes, environmental degradation, and poverty
There was a reflection focusing on, "How did we survive?" - and we pushed the message that "We should not lose hope", and we discussed "Where to draw our strength"
Strengthening organizations
We conducted workshops and trainings for organizations in the area:
Organization Development & Management - Albuera, Isabel & Palompon


Workshop on VMG & Program
Entrepreneurial Literacy Training


Development of Business Plans for SFWA & AEWA


Livelihood Skills
We also conducted livelihood skills trainings.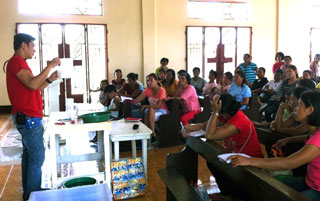 Composting & Container Gardening in Limestone Terrain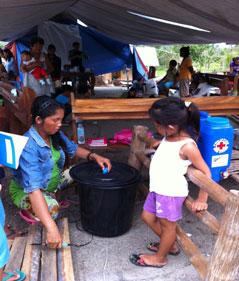 Household waste bins for Fish Amino Acid (Fertilizer)
Other Skills Training included:
Hands-on compost mixing
Container garden in Isabel
Livestock Care & Management
Livelihood Package
We also helped with providing livelihood packages which included:
Livestock Distribution
Fishing Material Distribution
Assorted dry goods for "sari-sari store" Distribution
Manicure-pedicure Set
To view more photos from our activities in the abovementioned areas, see more by clicking below:
Responding to Womens Needs in Haiyan Affected Communities