a review and update on relief and rehabilitation efforts in the Philippines
Read the specific relief reports of Unlad Kabayan and their partners
One year ago, Typhoon Yolanda (international name: Haiyan) hit the Philippines – with the unofficial estimate of the Joint Typhoon Warning Center (JTWC) reaching 315 Km/hour (195.7 miles/hour) at one-minute sustained winds, it is considered as the most powerful typhoon (or storm) in recorded history to ever make landfall. On November 8, 2013 – at 4:40AM (local time), Yolanda makes initial landfall in Guiuan, Eastern Samar with ten-minute sustained winds of a little over 230 kilometres per hour (143 miles per hour) at peak intensity during this point.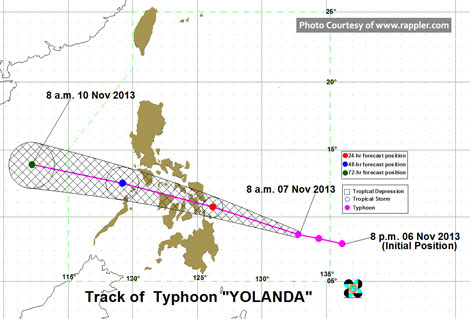 It reportedly made an additional four more landfalls as the storm crossed the Visayas – Daanbantayan (Cebu); Bantayan Island (Cebu); Concepcion (Iloilo); and Busuanga Island (Palawan). However, the wake of damage that Typhoon Yolanda caused extends well beyond the five (5) locations where it made landfall. With a devastating casualty count of 6,300, Typhoon Yolanda has affected 1,473,251 families throughout the country. As of April 17, 2014, the Philippine National Disaster Risk Reduction and Management Council (NDRRMC) has reported the following data (refer to table below):

Casualties

Region

Dead

Injured

Missing

CALABARZON (IV-A)

3

4

0

MIMAROPA (IV-B)

19

61

24

Bicol Region (V)

6

21

0

Western Visayas (VI)

294

2,068

27

Central Visayas (VII)

74

348

5

Eastern Visayas (VIII)

5,877

26,186

1,005

Zamboanga Peninsula (IX)

1

1

0

Caraga (XIII)

1

0

0

Total

6,300

28,689

1,061
Additionally, the same organization collected data about the damages caused by Typhoon Yolanda over Agriculture, Infrastructure, Casualties, and others – to-date, their total reported amounts to a whopping USD$ 2,051,710,653.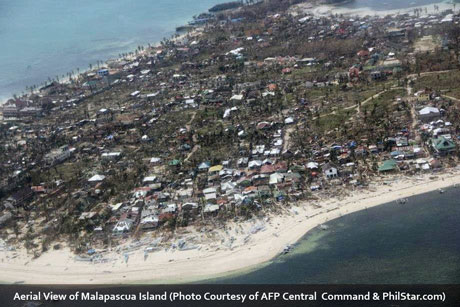 Another Report (Phil.Daily Inquirer, Nov. 16 issue: page A13) indicates: Deaths 7,354 and Total Damage: US$10 Billion.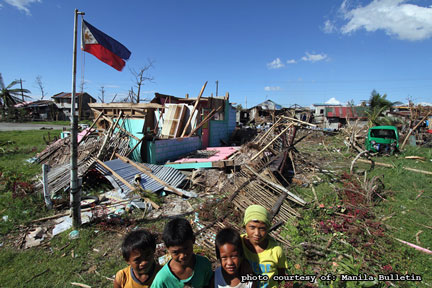 Data collected reports that a total of TWENTY THOUSAND (20,000) classrooms were destroyed and/or damanged.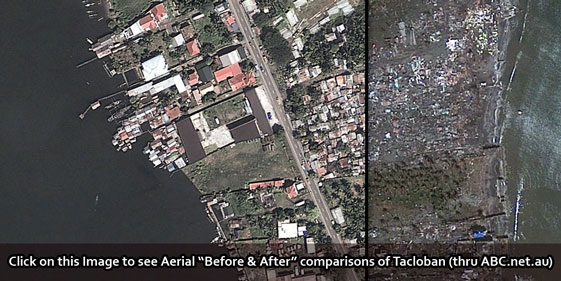 In response to the overwhelming needs of the victims in the various affected areas in the country, a torrent of support from the international community, the Philippine Government and various Non-Government Organizations rose to the challenge. Among the first responders to the Filipino call for help was Unlad Kabayan and its partners.
The Philippine Government has outlined a report of what has been done and what is yet to be done with the relief and rehabilitation efforts.
The Philippine Government's report can be read in full on their Crisis Reponse Update Page on Typhoon Yolanda.
Additionally, the government has implemented the Free Mobile Disaster Alerts Act which now requires all mobile phone carriers to send out text or MMS messages to all their subscribers updating them of any impending calamity.

On the one year anniversary, a country-wide vigil and memorial was observed through dozens of events held throughout the most affected areas in the country and in our capital.
Unlad Kabayan, along with our partners, have worked constantly towards the relief and rehabilitation efforts over the past year. To know more about what we are doing and what we have done, please click on any of the links below or contact us to see how you can be a part of our efforts towards enabling the recovery of affected families.


MDRRM Officer helps distribute Fishing materials


Assorted dry goods for "sari-sari store"

Nipa palm fronds for roofing material in Arbuela


Benificiary of House Rehabilitation in Arbuela


Isabel Yolanda Victim House Rehabilitation